The general process of this type of yarn uses jet airflow to separate, loosen and bend the fibers of the main yarn to form irregular loops, which are densely arranged, intertwined, and coated with the maching yarn (spandex) to form a structure with a chemical fiber yarn that is tight and has a short-fiber appearance. In the ATY process of Hsin Jung, buyers can choose different yarns to replace the main yarn and the matching yarn to customize the ATY into a chemical fiber yarn with the appearance of short-fiber touch.
APPLICATIONS
Casual Socks
Yarn for Knit/Woven Fabric
OUR ADVANTAGE
The soft air-textured yarn (ATY) is created using only one step, which is the first innovation in the world, and is characterized by the functionality of the filament and a consistent feather-like fluffy feel of staple. The fineness of the composite covered yarn is less than 40 D; therefore, the yarn is extremely skin-friendly and comfortable. Hsin Jung Fiber has made a breakthrough in producing elastic ATY that provides comfortable hand feeling and considerable economic benefits, and can be manufactured in an efficient manner. ATY can satisfy the diverse requirements of end products in terms of functionality and handfeel. With costs reduced and time efficiency increased, the production of ATY is promising for customers.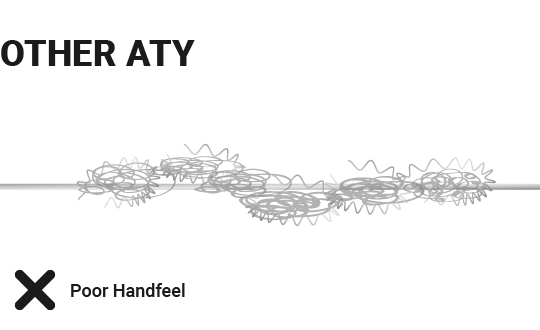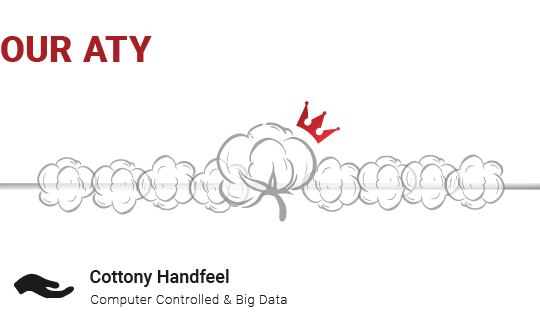 SPECIFICATION
Spandex(D)
Material
Denier/Filament (D/F)
Luster
15
20
30
40
55
70
120
140
Nylon6
45/48
FD
Nylon6
90/96
FD
Nylon6
160/144
FD
Nylon6
300/192
FD
N6/PET
45/48
FD
N6/PET
90/72
FD
N6/PET
165/144
FD
PET
45/48
SD
PET
90/48
SD
PET
170/144
SD
PET
170/288
SD
PET/CD PET
90/48
SD
PET/CD PET
170/144
SD
PET/CD PET
170/72
SD
PET/CD PET
170/108
SD
※ Note: FD means Full Dull.
※ Note: This table is a common specification, and a customized service is also available.